Our second summer pick is There Might Be Lobsters by Carolyn Crimi illustrated by Laurel Molk. This book is a fantastic beachy summer read that shows us what it means to be brave. Eleanor takes her small pup Sukie and Sukie's sock monkey Chunka Munka to enjoy a fun day at the beach, but Sukie finds so many new things to be scared of: the stairs are big and sandy, the waves are big and whooshy, and the balls are big and beachy, AND there might be lobsters!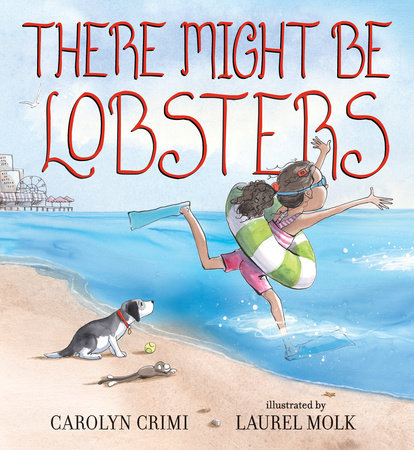 This book accurately captures the way anxiety can spiral when we face new and unknown experiences, and the way fear can be completely irrational (lobsters could be anywhere!) and hold us back. Sukie's worries are endearingly childlike, and that, I think, makes them relatable for young readers who often face their own anxieties.
Eleanor is a compassionate, patient encouragement to Sukie, "You can do it!" she calls. My brave Bonnie is usually not afraid of jumping into new adventures, so I think Eleanor's example of encouragement and empathy is important to show her how to be kind to others who may not be as bold as she often is. You can encourage your friends to be brave without making fun of them, leaving them out, or pressuring them to do things they are not ready for.
Eventually Eleanor goes for a swim, leaving Sukie on the beach. Sukie has to face her fears of the ocean finally when a wave carries her beloved sock monkey away. As she jumps in to rescue Chunka Munka, "she felt braver than the bravest dog, because even though she was very small, Chunka Munka was smaller."
Molk's beautiful watercolor, acrylic, and pen-and-ink illustrations add a layer of visual humor to the story. When you read it, don't miss the hidden lobsters, or the antics of the sly seagulls. We found our copy of There Might Be Lobsters at our awesome library, but if you can't find it there you can find it from Star Line Books here!